Opleiding PowerPoint presentatietechnieken
Formation Opleiding PowerPoint presentatietechnieken - 1 jours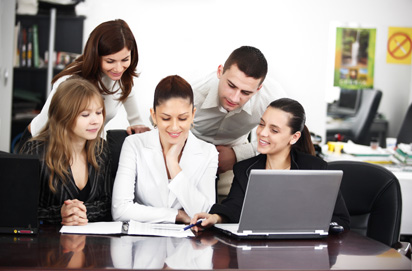 Description :
PowerPoint is de moderne en electronische versie van transparanten.
Met PowerPoint maakt u presentaties, demonstraties en multimediashows.
Objectifs du cours :
De ideale manier om uw bedrijfs- of productpresentaties tot een succes te maken.
Contenu du cours : Opleiding PowerPoint presentatietechnieken
PowerPoint opstarten en afsluiten
Opstarten via het start-menu, via een pictogram op het bureaublad
Afsluiten
Help opvragen in PowerPoint
Office-assistent
Contents and Index of Inhoudsopgave en index
What's This ? of Wat is dit ?
Help in dialoogvensters
Het venster van PowerPoint
De verschillende onderdelen
Weergave-instellingen
Bewerkingen met bestanden
Een nieuwe diavoorstelling creëren
Switchen tussen actieve diavoorstellingen
Een diavoorstelling opslaan,  afdrukken en sluiten
Manipulaties in een diavoorstelling
Nieuwe dia's toevoegen in een diavoorstelling
Tekst in een dia inbrengen en manipuleren
Dia-indeling wijzigen
Navigeren doorheen een diavoorstelling
Dia's verplaatsen; kopiëren en verwijderen in een diavoorstelling
Dia's onzichtbaar maken in een diavoorstelling
Opmaak van tekst in dia's
Karakteropmaak
Alinea-opmaak
Dia-opmaak
Masters of modellen versus designs of ontwerpsjablonen
Presentatie van een diavoorstelling
Een diavoorstelling afspelen
Overgangen tussen verschillende dia's
Interactieve diavoorstellingen
Afbeeldingen
Afbeeldingen invoegen,  verplaatsen of kopiëren
Afbeeldingen vergroten of verkleinen
Ingevoegde afbeeldingen manipuleren
Grafieken
Tabellen
Organigrammen
Geluidsfragmenten en videoclips
Andere objecten
Inpakken en wegwezen
Werkbalken manipuleren
Tweede deel:  Presentatietechnieken
Communicatietechnieken
de essentie
waarom gaat het soms mis?
technieken voor betere communicatie
stemgebruik en intonatie
non-verbale communicatie
onderlinge verhouding
Aandachtspunten
voorbereiding:
logische opbouw:
locatie
didactisch materiaal
elektronische presentaties
spreekangst
empathie
checklist voor de start
overtuigen
vragen en reacties
Nous contacter :
boulevard Mettewie 89/42
1080 Bruxelles
Gsm : +32 477 16 40 11 Tel : +32 648 84 63
Email :
selossej@pixystree.com
Nos avantages :
Type de formation : Inter-entreprise, Intra-entreprise et particuliers
Formation 100% flexible et personalisée : Vous choisissez le lieu, la date et le programme de formation
Demande de devis : Réponse dans les 24 heures.
Remise de 50% pour les PME Bruxelloises
Parking, boisson et lunch gratuit
Accès à notre centre de compétences : Syllabus, note de cours, exercises,...