Formation : Responsable Digital
Formation Formation : Responsable Digital - 9 jours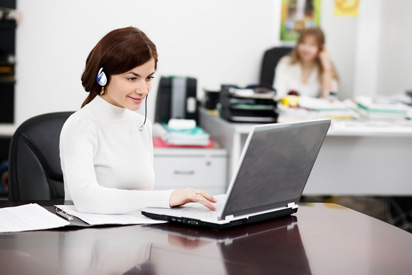 Description :
Le digital bouleverse la donne économique et seules les entreprises bien préparées tireront leur épingle du jeu. Les entreprises ont besoin d'un interlocuteur identifié et bien formé pour conduire leur mutation vers le digital.
Ce cycle de formation permet à la personne responsable du digital de s'approprier les nouveaux modèles économiques, de repérer les compétences et les technologies nécessaires à l'entreprise, d'outiller les managers pour déployer une stratégie digitale porteuse de croissance pour l'entreprise.
Objectifs du cours :
Les objectifs de la formation
Comprendre les enjeux de la transformation digitale de l'entreprise.
Définir le nouveau business model et déployer la stratégie associée.
Identifier les compétences nécessaires pour réussir la mutation vers le digital.
Repérer les technologies digitales génératrices de compétitivité pour l'entreprise.
S'appuyer sur le nouveau rôle du manager dans la transformation digitale.
A qui s'adresse la formation :
Pour qui
Dirigeant, Responsable Stratégie.
Responsable Business Unit , Responsable Commercial ou marketing.
Futur responsable digital de l'entreprise : directeur du numérique, Head of digital, Chief digital officer, …
Consultant, et toute personne en charge de la transformation digitale de l'entreprise.
Prérequis
Cette formation ne nécessite pas de prérequis.
Contenu du cours :
Le programme de la formation
Partie 1 : Impact du digital sur le business model
1 Cerner les enjeux de la transformation digitale pour votre entreprise
Analyser les tendances d'une économie en mutation.
Comprendre les ruptures induites par le digital.
Clarifier le rôle des technologies digitales : mobile, médias sociaux, analytics, cloud computing, objets connectés, …
Entrer dans la dématérialisation des process et des services.
Passer de l'analyse reporting à l'analyse prédictive.
2 Placer le client au centre de la transformation digitale
Comprendre les nouveaux comportements des consommateurs : multi devices, hyper-connecté.
Adopter une vision 360° et omnicanal du client.
Optimiser la connaissance-client et les flux de données.
Envisager le déploiement d'une plateforme digitale orientée client.
3 Élaborer une stratégie digitale porteuse de croissance
Les stratégies de transformation digitale : globale, par étape et par fonction, spin-off.
Impliquer les consommateurs et les clients dans l'entreprise : co-construction d'offres, co-communication sur la marque, co-innovation, médias sociaux.
Situer le degré de maturité de son entreprise face à la transformation digitale : outils et process.
Repenser son Business Model à l'heure du digital.
Les approches disruptives : Mobile first, Lean start-up, Groth hacking.
Partie 2 : Impact du digital sur les métiers
1 Identifier et développer les nouvelles compétences digitales
Intégrer l'évolution et l'apparition de nouveaux métiers : Community Manager, Chief Data Officer, Data Protection Officer, Data Scientist…
Identifier et développer les compétences numériques des collaborateurs.
Situer le rôle de la fonction RH dans la transformation digitale de l'entreprise : accompagnement, formation, …
Favoriser l'utilisation des médias sociaux, des outils collaboratifs, du réseau social d'entreprise.
Construire des communautés internes.
2 Passer du Marketing à la coordination de l'expérience-client
Prioriser le parcours et l'expérience-client.
Transformer le CRM : support client, Sales Automation, Campagne Management.
Le rôle de l'analyste marketing : compréhension et suivi des clients via le Big Data.
Le digital marketing (marketing multicanal, recommandation, audience, fidélisation, etc.).
Viser la convergence des fonctions marketing, vente et relation-client.
Méthodes et outils digitaux pour le commercial, le marketing, la communication et la relation-client.
3 Intégrer les technologies de l'entreprise digitale
Le rôle central de la DSI dans la digitalisation de l'entreprise.
Digitaliser le poste de travail : digital workplace & collaborateur numérique.
La sécurité d'une entreprise digitale.
Adapter le Système d'Information aux enjeux du numérique (BYOD, RSE, mobilité).
Intégrer des solutions Cloud et SaaS.
Les technologies de Business Analytics and Optimization (BAO).
Partie 3 : Impact du digital sur le management
1 Actionner les facteurs-clés de succès dans un projet de transformation numérique
Le rôle de la Direction dans l'organisation digitale.
Fluidifier les process de travail et accélérer les prises de décision.
Passer du « Command and control » au « Test and learn ».
Encourager la participation, l'innovation, l'évaluation.
Instaurer un dispositif de gouvernance digitale.
Digitaliser l'état d'esprit de l'entreprise.
2 S'appuyer sur le nouveau rôle du manager dans la transformation digitale
Freins et leviers de la transformation digitale dans l'entreprise.
Les nouveaux modèles d'organisation liés au digital.
Culture d'entreprise, collaboratif et open innovation.
Le nouveau rôle du manager (leadership et confiance).
Manager avec les outils collaboratifs.
Les communautés internes et les réseaux sociaux d'entreprise.
Accompagner la transformation digitale.
3 Gérer les impacts du collaboratif sur le management
Impact sur l'animation :

manager des équipes éclatées,
des temps et des rythmes dissociés, des cultures internet différentes.

Impact sur l'organisation :

gérer la porosité des frontières organisationnelles.

Impact sur l'information :

accepter la fin du monopole managérial de gestion de l'information et du savoir.
Nous contacter :
boulevard Mettewie 89/42
1080 Bruxelles
Gsm : +32 477 16 40 11 Tel : +32 648 84 63
Email :
selossej@pixystree.com
Nos avantages :
Type de formation : Inter-entreprise, Intra-entreprise et particuliers
Formation 100% flexible et personalisée : Vous choisissez le lieu, la date et le programme de formation
Demande de devis : Réponse dans les 24 heures.
Remise de 50% pour les PME Bruxelloises
Parking, boisson et lunch gratuit
Accès à notre centre de compétences : Syllabus, note de cours, exercises,...